There are many breeds of dogs with drooping ears. These adorable dogs, in general, are characterized by being gentle, very loyal and affectionate, perfect to have at home as companion dogs. If you want to know a little more about this type of dogs, continue reading and discover some of the most outstanding breeds that have this specific feature.
The most outstanding dog breeds with drooping ears
1.Dog of San Humberto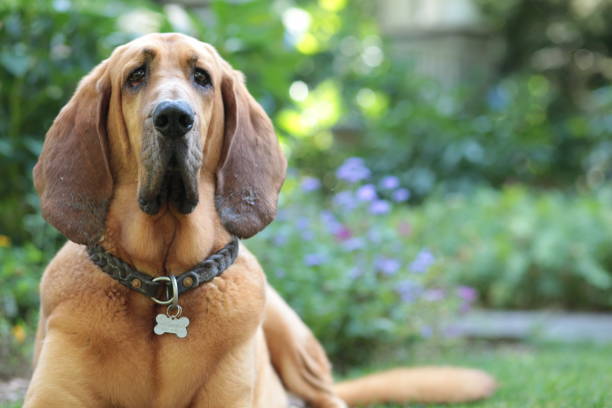 Among the breeds of dogs with the most prominent drooping ears is the Bloodhound or San Humberto dog. It is one of the oldest races in the world, in addition to its long ears, is characterized by having an imposing physique. Although it is a large dog, their character is calm, affectionate and protective with their owners.
2.American Cocker Spaniel
The Cocker Spaniel is one of the most popular and well-known dogs. It is very common to see him as a companion pet, especially because he is a medium-sized dog that responds quickly to stimuli. Its long ears constitute one of its highlights. When it comes to his character, this dog is very sweet and sociable without being as attached to its owners as other dog breeds.
3.Golden Retriever
The Golden Retriever is one of the best known races in the world. This dog combines great intelligence with affectionate and sociable behaviour. In addition, it is extremely protective of its owners. It has a medium size, and its drooping ears constitute one of its most important physical characteristics.
4.Beagle
The Beagle is a dog that was once used a lot for hunting. Today, he has won the hearts of many people, especially for his faithful and protective character. This dog is characterized by being small in size, having short legs and drooping ears.
5.Great Dane
This dog is one of the largest that exists. His bearing is elegant, and his droopy ears give a certain sweetness to his look. Formerly his ears were cut to give more elegance, but fortunately, it is a practice that was in the past. This great dog that can measure more than 80 centimetres has a very sweet character, is faithful and protective with his family.
These are some of the dog breeds with the most prominent drooping ears. Each of them shares not only this physical badge but also a very good character and behaviour. Which of these five races is your favourite?